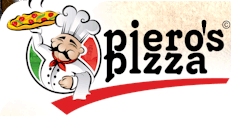 "About us" should read "About me".
The "Piero's Pizza" stores introduced on this website do not exist
for real. Piero is me, Peter Debik, and "Piero" is the Italian translation
of my first name. I love deep pan pizza and once enjoyed frequenting
the pizza stores with the red roof in the logo with my buddy Bob. In my
opinion the service quality of this restaurant chain was run down to an
intolerable level while their prices went off the charts. In the 90s I was
once served a soft drink containing a huge plastic part of the bottling
device. At least the waitress should have noticed. This was my last
visit there.
I did not want to do without the pizza though. The recipe of these stores
is unique because the pizza crust is fried and crispy while the topping
and the center are moist & buttery. Now I pay them back for years of
bad service by publishing their "secret recipe" for these deep pan
pizzas so that everyone can copy the great taste at
home and avoid the bad service of the restaurant
chain.
So I started
baking pizza
at home. I had gathered
some experience with this
before when my brother
Charlie and I copied the delicious double-crust pizzas of Jim's Pizza &
Pasta Express in Carterville, IL, back in 1988. However, the deep pan
pizzas I started off unsuccessfully. Although it is easy to bake a pizza, it is complicated to bake a really good deep pan pizza in a convection oven at home. I tried for many years, tried several different types of flour, even corn flour, tried different oils and fats, a dozen types of cheese, sauces and all kinds of herbs. It took me hundreds of attempts to reveal the simple tricks to get an authentic "Piero's pizza" to taste like its famous model: crispy bottom, full-bodied, slightly alcoholic buttery dough flavor, moist & juicy cheese and firm and fresh toppings that unfold the different flavors of the ingredients. The authentic "Piero's pizza" even succeeds in a convection oven at only 356º F. Enjoy your meal!